I Lift My Praise — New piano collection
Here is a new piano book published by The Wilds that you don't want to miss!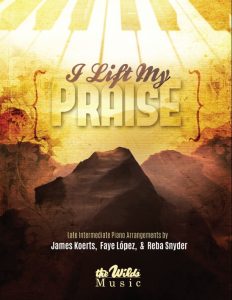 I Lift My Praise is a great resource for church musicians! Faye Lopez, a good friend of mine, and prolific arranger and composer, led our team of collaborators, Reba Snyder and myself, in the production of this collection. Mrs. Lopez also beautifully recorded the collection in an available companion album (see below).
Titles Include: O Worship the King * Nearer, Still Nearer * Here Is Love * Take My Life, and Let It Be * I Run to Christ * A Passion for Thee * Complete in Thee * Nothing But the Blood * My Faith Still Clings * My Jesus, Fair * Make Me a Stranger * Brethren, We Have Met to Worship.
You will particularly enjoy this collection of Late Intermediate piano solos because it also comes with a media disk that includes PowerPoint presentations for each song. This really is a great resource, and I'm thrilled to be part of it.
Preview and listen to each song, and purchase the book with companion media disk here.
Preview and purchase the companion album here.