Choosing Wedding Music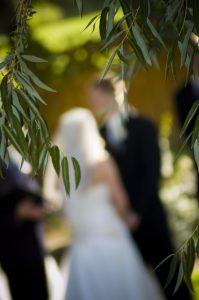 Over this past weekend I attended a wedding at our church. It was a simple wedding, but I can honestly say it was done right. The music was great. It was uplifting and upbeat (in other words, I didn't feel like I was attending a funeral!), and it was excellently performed.
Every bride and groom knows that preparing for "the big day" is no small task, and selecting music is just one of the many items on every wedding coordinator's to-do list. So here's my best advice for those seeking to choose music for their wedding ceremony. (Buckle up; this is amazingly profound.)
Your wedding ceremony is… well, a ceremony. (Insightful, huh?) I like to view it as a service. In fact, I might assert that it's a type of worship service. After all, as believers in Christ, it's a great opportunity for you as a couple to openly acknowledge your relationship with God before all your friends and family. You're identifying yourselves with Christ, and saying, We want Christ to be the center of our marriage.
I'm not saying that you should view the primary purpose of your wedding as an opportunity to evangelize every lost soul who walks in the door (though I can't think of a better occasion to accept Christ as Savior), sing congregational hymns (though I've seen that done effectively), or take an offering (that would be a first).
What I am saying is that viewing your wedding as a worship service will help your decision making process. For instance, just because you like a particular song, or a song means a lot to you as a couple for whatever reason, doesn't mean that it's the right song for your wedding ceremony. Similarly, just because a song is a new chart-topper, or it's traditionally used at weddings, doesn't necessarily make it the right fit for your wedding.
Here's what I'm getting at: Your wedding music is an opportunity to share a message. It's a message that will be associated with you as a couple. Ask yourselves, What do we want our message to be?
Looking back at my wedding, we had so many messages. We wanted people to know of God's love (How Deep the Father's Love), a love which is admittedly so much greater than our frail love, by comparison, for each other. We wanted people to see our strong desire as a couple to be like Christ (O To Be Like Thee). And we also wanted to simply thank God for His goodness (For the Lord Is Good).
I trust our marriage continues to speak those messages.