Church Choir Survey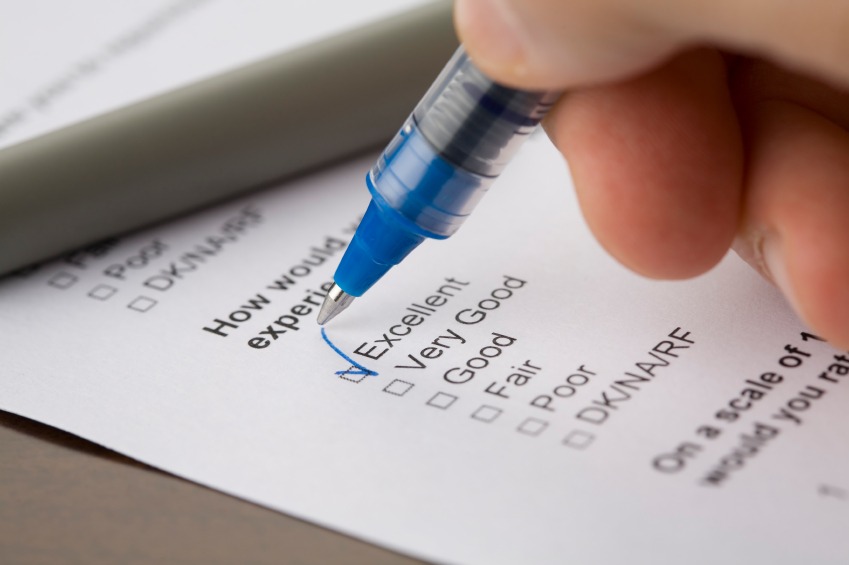 Being an effective leader involves personal improvement. This is a lesson I have been learning. Sometimes it is necessary for those who oversee you to provide direction. Other times it's helpful to receive encouragement from your peers. But what about receiving feedback from those who serve under your leadership?
Being a relatively young choir director, I'm constantly seeking ideas that will improve my ministry (though, admittedly, not nearly as much as I should). I recently read an article in which a choir director gave a questionnaire to his choir asking for feedback. That sounded like a good idea, so I came up with my own. Here are the questions I included:
What letter grade (A, B, C, D, or F) would you give to the overall choir experience?
I received mostly A's and some B's for this question. Generally, people enjoy our choir ministry, and that's the way it should be for any ministry. So that was an easy question.
What letter grade (A, B, C, D or F) would you give to the choir director?
Again, another easy question. Even though this was an anonymous survey, the majority were A's for this question; a little better than the previous question. I'm not sure how valuable this question is (it might be helpful to be more specific), but it is nice to know how your leadership rates in people's minds.
What Can I do to improve?
Here was a very open ended question which could go in numerous directions. And it did. I received comments from "your doing a great job" and "you can't improve anything," to advise on directing patterns and vocal technique. Some comments reflected opinion ("take the songs slower"), some represented humor ("send us on a choir cruise"), and some made me think and evaluate aspects of our ministry ("help us focus on worship"). Good feedback for this one.
Do you like the format of rehearsals? (If not, what would you do differently?)
I was opening myself up for this one. The truth is, I love the format of our rehearsals. But I wanted to see what everyone else thought. If there was a general consensus that things needed to be changed, I wanted to know. The results? Overall, this was the most positive response. The majority of our folks enjoy how the rehearsal is run.
How would you rate the songs we sing (please choose one)?
(1) While there may be some that aren't my favorites, I generally love the songs we sing.
(2) You've chosen a few "clunkers," but I usually like our song selections.
(3) Truthfully, I only like about half of the songs we sing.
The majority of the folks in our choir chose #1, while a significant number chose #2. In my mind, the correct answer is #2. More than anything, the responses to this question are going to indicate personal opinion. It's good to know if your group is supportive of your decisions regarding song choice.

I told the choir that there was a fourth option: "I don't care for most of the songs we sing." I explained that I left that off because I figured, if that's the case, they probably wouldn't be in the choir!
What is your favorite song we sing?
Here I just wanted to learn favorites. I will consider these when I sit down to plan our next music schedule. I received a lot of good ideas.
Do you have any new song suggestions?
I actually received a few good ideas from this question. Again, questions like these will merely reflect personal opinions. I gave no guarantee that we will sing the suggestions; but I will consider some of them.
What one thing should we do to improve the overall choir experience?
This question was worth the entire project. I received such valuable feedback. I like the idea of narrowing it down to "one thing" (although, humorously, some had difficulty sticking to just one thing). I hope to learn the heartbeat of our choir members, and learn what's important to them.
I have already allowed the results of this survey to affect our choir rehearsal. I'm thankful for the candid feedback, and I anticipate it will lead to some changes toward improvement in the near future.
What questions would you ask your choir members?
James Koerts serves as the worship pastor of Mikado Baptist Church in Macon, Georgia. In addition to his full time responsibilities at the church, James is also a published composer and arranger.