Church Pianist Challenge: Disruptive Congregation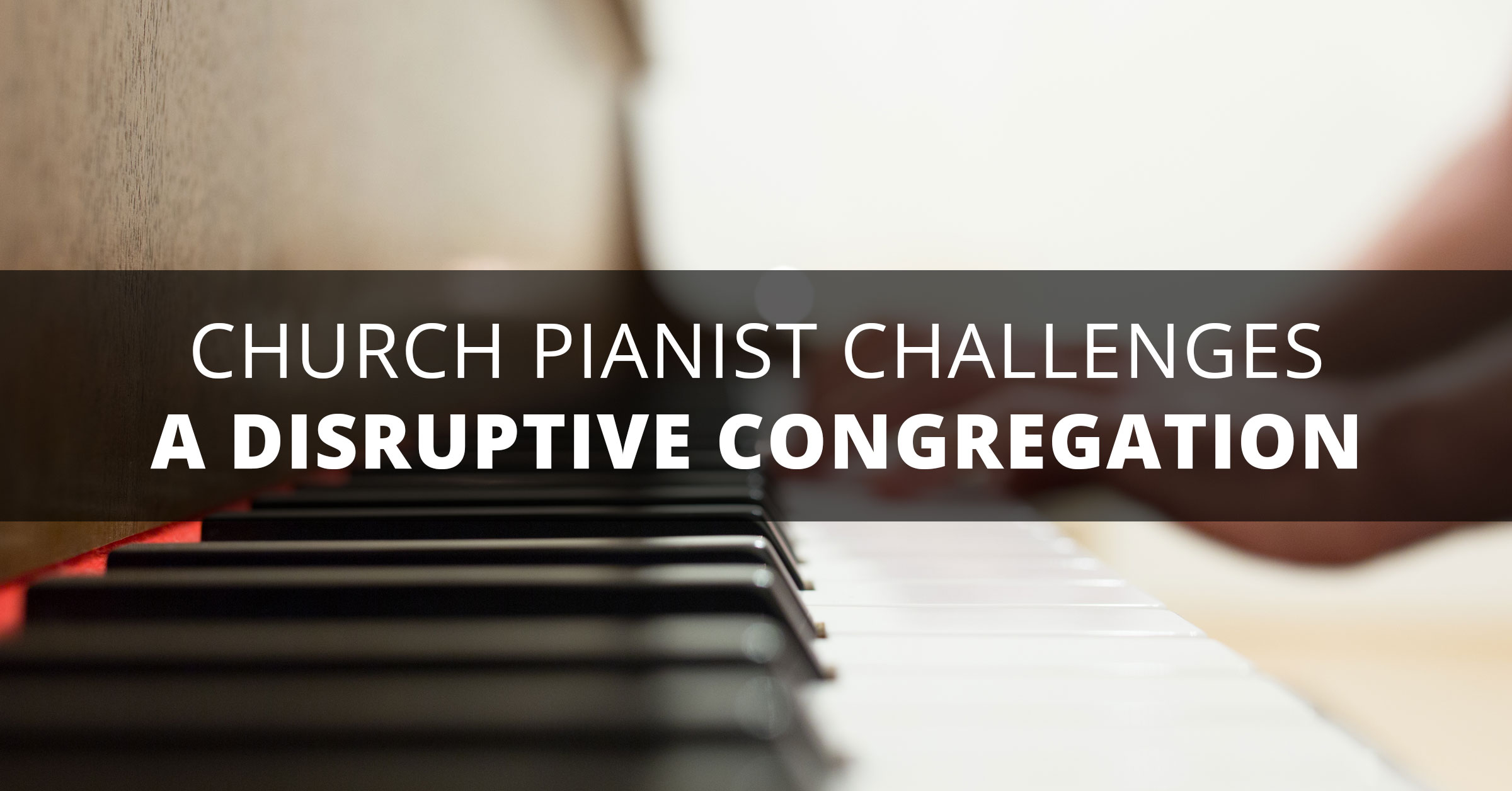 This is the first in a series of articles I will be writing about challenges facing church pianists today. It grows out of this article, which seemed to hit a nerve.
Church pianists are valuable resources to the church. Just ask someone who attends a church without a pianist, and they'll tell you how important they are!
When a pianist prepares an instrumental solo, what's involved? Many things. Initially, there is the time investment to peruse and discover new and appropriate repertoire. Then there is a financial investment made to obtain this music. Finally, there is the mental and time investment for preparation, which may include many hours of rehearsal. Add to that the stresses of performance, like perhaps dealing with the quarks of a less-than-ideal instrument, awkward or difficult page turns, air handlers blowing your music everywhere, or coping with stage fright and performance anxiety.
All of this, so that the congregation can take part in a special aspect of worship through music. Scripture is replete with God's desire for instrumental music (2 Chronicles 29:25-28; Psalm 150; Revelation 5:8, 14:2-3, 15:2-3). Psalm 33:3 seems to have a directive specifically for instrumentalists: play skilfully and loudly. The passage seems to emphasize a need for precision and confidence. When this is achieved, an opportunity for worship (minus the distractions) exists for those who listen.
I also think you can make a case that, when instrumental music is not accompanying singing, it ought to be used to remind us of songs the congregation already knows, so that the truths of those songs can be non-verbally communicated (reminded) through the music. Not everyone sees it this way, and there is certainly room for varying viewpoints. Bottom line: the music serves a purpose.
If a congregation is unengaged, uninterested, or otherwise distracted, it will deflate any purpose of the instrumental worship. Ultimately, a church pianist is not responsible for the behavior of a congregant, any more than a senior pastor is responsible for bad behavior during his sermon. It's important for pianists to remember this. We should be very thankful for pianists who dutifully perform their responsibilities, regardless of the attention level, response, or outcome. They have the right perspective. They are ultimately playing for the Lord, and they are grateful for the handful of people who "get it," and find encouragement and worship opportunities through their keyboard artistry.
A congregation that is disruptive during an instrumental offertory simply doesn't understand the opportunity for worship they are carelessly discarding. A church pianist would be wise to work with the leadership of the church (the pastor, the worship pastor, the song leader, etc.) to identify the problem, and seek appropriate resolution. Perhaps a song leader merely needs to occasionally remind the congregation that the offertory is not filler, but rather an important part of service. If there are "main offenders," they need to be gently and personally approached, and dialog should take place to find a solution.
What else can be done to emphasize the spiritual ministry of the instrumental? Make lyrics available to the congregation, whether on overhead projected screens, or in the bulletin. Even if lyrics to the entire song aren't practical, include just the refrain, or a main thought from the text. In addition to helping emphasize the meaning of the music, this might just help with quieting people down.
Pianists should also evaluate their playing. Listen to recordings of your performances. Ask some questions to help when evaluating. Is this arrangement interesting? Is it unnecessarily lengthy? Am I playing with expression and dynamics (or am I just pounding)? What can I do differently to build more engagement into the mix? Would I enjoy listening to someone else play this?
In my experience, the prelude and postlude serve as background music, and talking by an entering or exiting congregation is expected. I plan accordingly. But for offertories, we still regularly feature the instrumental solo, and our congregation knows this is an opportunity to worship God through their joyful giving in the offering plate, and through thoughtful meditation of the Scriptural truths presented through the message of the song being played. It is our prayer that we will point people to Christ through our ministry.