Examples of a worship order
Preparing for worship in church music ministry is essential. Part of that preparation involves developing a service order, or order of worship. Your worship order is a means of communication to those who are involved in your church's services.
Someone recently asked me to provide examples of our worship order at Mikado Baptist Church. Below you'll find a couple of examples from this last Easter Sunday. First, it's important to know that we don't have a corner on the market. In fact, our service orders are merely an equivalent to an accumulation to the numerous service orders that I've seen over the years. We just assimilate from the best; and I'd encourage you to do the same.
Further, our service order works best for us, but it's not for everyone. I have a worship pastor friend who develops a continued theme for each service. While we—in a general sense—strive to maintain a connection throughout each song service, that level of organization wouldn't work for us because of the high level of flexibility needed on the part of the participants. (We have chosen rather to select and organize our music months in advance, which often limits our ability to have themed services. We do, however, plan themed special services at least once a month.)
Each service order is copied onto a half sheet of paper, with the morning services (identical) on the front side, and the evening service on the reverse side. Here's a copy of Easter Sunday morning's worship order: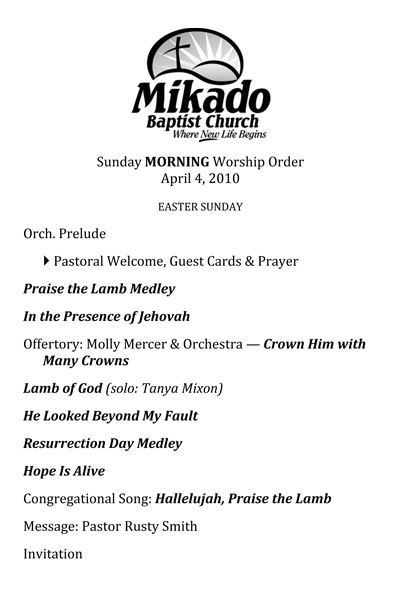 Notice a few things: The date and specific service are clearly indicated below the church's logo to stand out for easy identification. For special days (like Easter), I include a title at the top. I always try to keep things consistent, and since the majority of the morning service was choir & orchestra songs, I just provided their titles in bold and italics. The people who were involved (and who this worship order was for) knew what this meant. The sound technicians can easily identify places where they need to have the piano featured (the offertory), where a soloist needs a microphone, and when the congregation is singing.
Here's Sunday evening's worship order: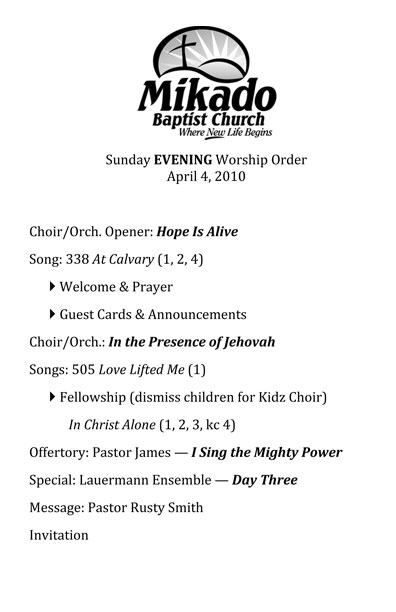 This worship order is the most common in our church. Notice a few things: Since our lyrics are projected on the screens, I provide the stanzas following each congregational song we sing. I often provide more stanzas than we might actually sing, just in case I need to shorten the service a little. I use arrow bullets to set off special things during the service (i.e. announcements, mission spotlights, etc.). Many of the songs we sing are not in our hymnal, so obviously we do not provide a hymn number for them (as in "In Christ Alone"). Notice also that the letters "kc" are between the last two stanzas. This refers to "key change." The instrumentalists will understand this and play an arranged key change that they have.
General observations: Be sure to provide plenty of margin space and spacing between each line. This is helpful in allowing our pastoral staff members and others involved in the service to jot down notes that pertain to the service, or that they would like to discuss or evaluate later. Also, there's a balance between doing what works, and getting in a rut. If you sense that there is a rut in your worship, you may want to first reevaluate your worship order. Finally, always work towards a clean, consistent look. Consider fonts, font sizes and attributes, and line spacing when developing your order. Microsoft Word is a great help here. (I use 13 point Cambria font with a 10 point spacing after each line.)
There you have it. Now I would like to see your ideas. How can I improve these worship orders?