Hosting a successful choir kick-off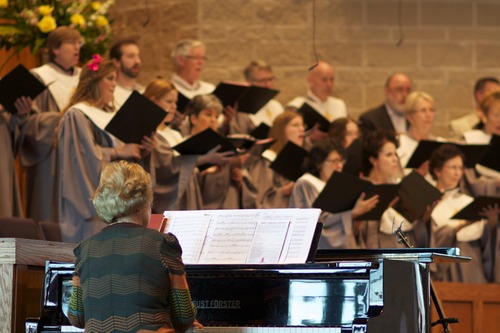 Hosting a choir launch (or, choir kick-off, as we called it for many years) has several benefits:
It's a great way to make a fresh start and begin a new wave of momentum for your music ministry.
It provides an opportunity for you to invite new choir members to "try out" the choir ministry of the church.
It serves as a fantastic fellowship opportunity for your choir members.
It allows you to introduce new music, or present a new Christmas musical or other large work you will be presenting.
It gives you a chance to introduce new service opportunities and impart your vision and philosophy for the ministry and future of the choir.
Our launch usually begins around the beginning to mid-August, around the time that schools are starting back up. In our church, we have a ministry-wide launch on a Wednesday night which usually includes the beginning of Awana for our children, a launch for our middle & high school ministry, the start of our Oasis Cafe (Wednesday night dinner), a new preaching series and/or new discipleship classes.
Some of these events took a sabbatical for the summer (Awana, Oasis Cafe), but others maintained their ministry throughout the summer. The reason for their launch wasn't really to start again; it was more to start fresh, give people an opportunity to reconnect, and encourage new participation and involvement. Our choir took a sabbatical this summer, and so it gave us a chance to start again. (Well, let me be clear: We took a sabbatical from Wednesday rehearsals. But because the choir is such an integral part of every weekend service at our church, we continued to rehearse a small amount on Sunday afternoons.)
Here are a few ideas that we have done over the years. Maybe they will spark your thinking as you plan for your choir launch.
Choose a time that will work for everyone.
This will be different for each choir. Some choirs are accustomed to attending occasional Saturday morning rehearsal. If so, it might be a good idea to host a brunch that will involve the majority of your choir. For us, we have found that the first night of Wednesday evening rehearsals works best. Yes, it eats into your rehearsal time, but it's worth it to get the most participation possible.
Emphasize fellowship, not rehearsal.
Remember, the choir is a family. A choir works best when members know each other, which helps them to better pray for and minister to each other, let alone minister to others. Nearly half (or more!) of our choir launch is fellowship-oriented. What a great tone this sets for the year!
"It's not a fellowship without food!"
So, yeah. We're a baptist church, and so food might be expected. But you can't go wrong with delicious food; it is a tangible way for you to express your appreciation for the choir, both for the past, and in anticipation for how God will use them in the future. Because we have a Wednesday night meal that our church offers, we try to keep our refreshments light. This allows people to go to our Wednesday meal, if they opt, and then go to choir for dessert. On the other hand, those who don't attend the Wednesday meal can get enough finger foods at the choir party to "fill up" on. This year we did fruit smoothies… mmm, yum!
Present your theme for the year.
You might want to begin a new devotional series with your choir. Use your launch as an opportunity to introduce your ideas. In the past we have introduced our Christmas musical (see below), and in doing so, we had the decorations and activities centered around that theme. (The most memorable launch was when we introduced our Celtic Christmas program. We had fun with that!)
Put forward your expectations.
This is a small part (usually a sentence or two), but can be a very vital part of your choir launch. Usually I take a moment to let new prospective members know we want them to attend at least three rehearsals before we issue their own choir folder and robe, and before they can begin singing on Sundays. I also ask them to fill out a 4×6 card with general info about themselves, and ask them to take home and familiarize themselves with a 2-page booklet giving the choir expectations.
Practice some.
We do have practice for two solid reasons. First, we are an active choir; we are continually rehearsing for something upcoming, even if it is "just" next Sunday. (I put "just" in quotes, because really, each Sunday is just as important as the seemingly more important things your choir does. But that's another article.) Second, it gives the new-comers an opportunity to see if they fit in musically. We usually rehearse a few selections that the choir knows well (giving a positive choral experience), and then one or two that we have to work a little harder at (letting reality set in!).
Introduce a new Christmas musical or another big ministry opportunity.
This fall, the large things on our choir's radar are a concert event (in celebration of our 100 year anniversary) and our Christmas program, so I began discussing them with the choir in the hopes to begin building excitement about them. In the past we have introduced our Christmas musical, which sometimes involves us listening to a CD of it, and other times I will sit at the piano and play through some of it. All this helps to plant seeds for excitement and momentum.
In conclusion, whether you take a summer sabbatical or not, hosting a choir launch is a great idea because it builds your choir up and sets the tone for a great year.
If you are called to lead a choir, know that the choir is a stewardship. You are responsible for what you do with it. Be faithful in your work! If you are a choir member, pass these ideas along to your choir director. He'll appreciate it!
James Koerts serves as the worship pastor of Mikado Baptist Church in Macon, Georgia. In addition to his full time responsibilities at the church, James is also a published composer and arranger.