How to simplify your congregational accompanying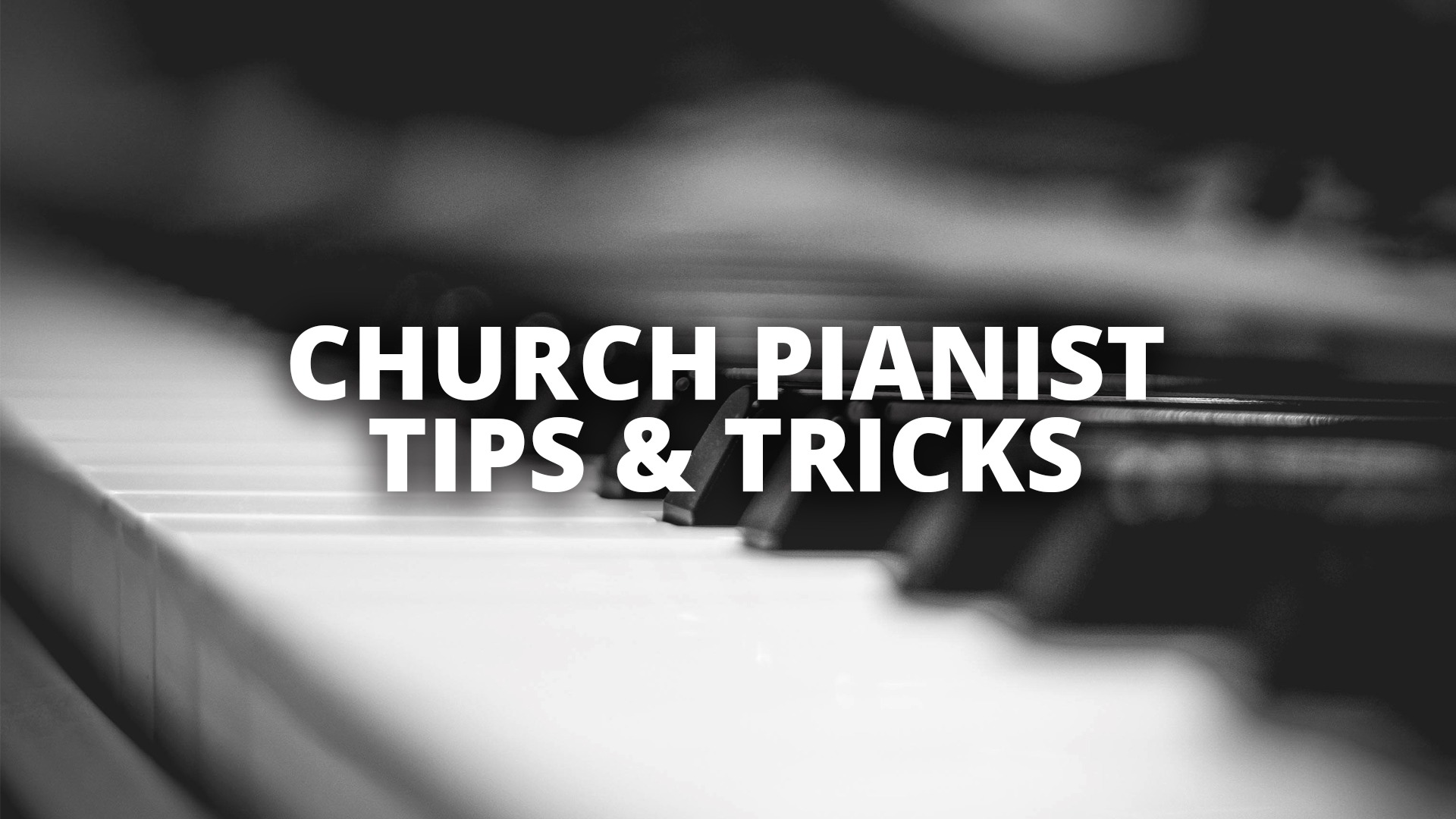 Simplified piano accompanying is not something new or original with me. A lot of people are teaching this concept these days. Bob Kauflin, and many others who lead worship with a band, emphasize the importance of utilizing the keyboard in a way that enhances the mix, and doesn't draw attention to itself. (Many are even minimizing the role of the accompanists in an effort to emphasize the actual singing of the congregation, which is a great trend!) But I've found that this technique, while necessary and appropriate in a praise band setting, also works very well in a more traditional setting (which is what I'm more familiar with).
If you're the only accompanist for the congregational singing, I suggest you take this tip with a grain of salt. Sometimes, what you play (or don't play) will make the difference between the congregation feeling very confident and singing out, versus them feeling uneasy and possibly even derailing the song. Your goal as an accompanist is to build confidence and provide support. Another factor involved is how long you've been their accompanist, and how well the people are used to you. If you're a newbie, you're going to want to take every precaution to ensure your playing is super supportive.
But if you are fortunate to play with other instruments (an acoustic band or a church orchestra), or your church is a four-part-harmony-singing type of church, you might find it helpful to simplify your accompaniment to compliment the ensemble or the singers. Let me give you a few examples.
Example 1

Here we have a pretty basic rendition of Amazing Grace, built on the harmonies found in the hymnal. This will work well with playing with a church orchestra.
Example 2

In example 2, you'll find a much stronger bass line. I will often incorporate this style, especially if we don't have adequate representation of the bass section (either brass or strings). Also, our church's piano is a 9′ concert grand; those bass notes resonate beautifully and powerfully.
Example 3

Example 3 emphasizes the mid-section, and also provides some momentous movement in the left hand. (Movement helps maintain momentum, or keep a lagging group moving forward. But be careful. Too much movement–sixteenth notes and such–can slow things down.) This rendition works well when your highs and lows are represented well in the church orchestra. It also works well when you're the only accompanist, or one of a few.
Example 4

Now things are starting to get exciting. Example 4 shows how you can eliminate some melody notes, and still provide support and momentum. Let's face it, most people know this song really well. So the melody on beat 3 of the first full measure is not necessary. Notice the right hand pattern in the second full measure. It grows out of the harmonies of the chord, and provides the movement while the voice holds a half note out.
Example 5

Example 5 will actually only (best) work when you are the only accompanying instrument, mainly because we're beginning to steer away from the harmonies found in a hymnal. If you are playing with an organ, or with an orchestra, or with four-part singing, this option likely won't work. It will work best for congregations that are used to singing melody, or used to occasionally singing in free form.
Go ahead and hum the melody while you play through this example. The second full measure is really exciting to me. It not only helps continue to maintain momentum, but it builds into the next measure. Notice I removed the E minor chord on beat 3 of the third measure.
It occurred to me that you're beginning to see the thought process that goes into arranging music. A pattern like this would work well for accompanying a soloist (vocal or instrumental) on this song. Even while simplifying, great interest has been added.
Example 6

Now let's have some fun. Again, hum through the melody while playing this example. You won't be able to get away with this pattern for a whole stanza, but you might be able to maintain it throughout the first half. It's very open sounding, almost ethereal. This will also work well when you want a stanza to be very reflective.
Example 7

Since we're getting crazy, have a look at this fun example. This is obviously very open and sustained. It will work in very few contexts. Our congregation follows a song leader who is confident and inspiring. Vocally, he can keep the momentum. That being the case, I might have liberty to experiment with options such as this. It wouldn't be common, however.
Hopefully, whatever you decide to do, you will provide the congregation support, and you will enable the most important thing about congregational singing to be emphasized: the singing itself.