Preparing for big church events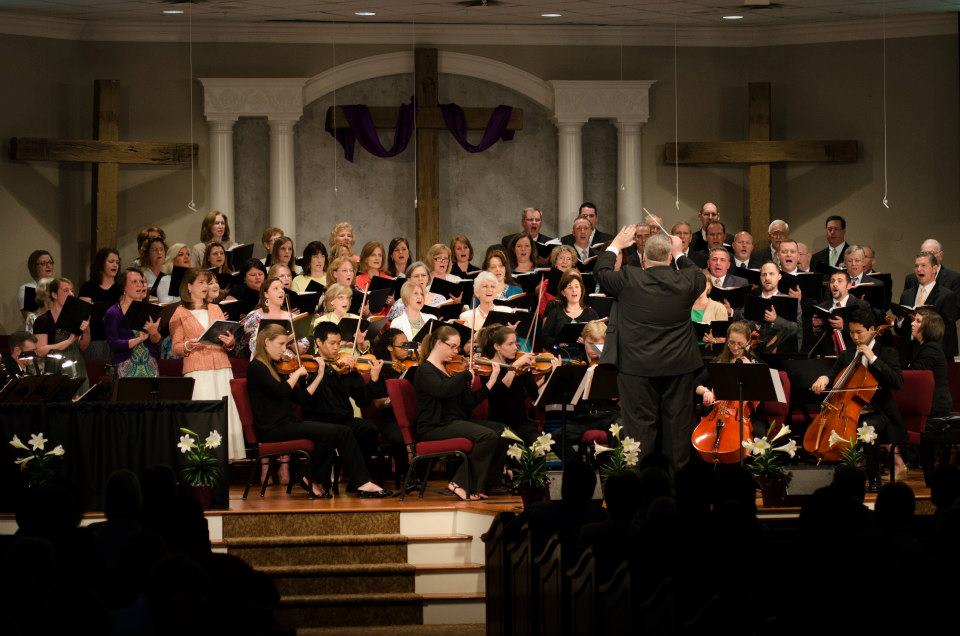 It's been awhile, so a blog post is long overdue. I've been tied up with a lot of things going in my life lately. Here's a quick list of things going on: our newborn (well, now he's 11 months old) who we absolutely adore (but he's crawling now!), some big events at church, several big publishing projects, and many other things.
Not the least of which was my newest digital piano project "Blessed Assurance". This piano collection, released the beginning of February, has quickly become one of the most popular projects on my site in the two and a half months it has been available. And for the rest of the month of April, you can get it for 20% off the original price (use code APRIL20 at checkout). Check it out here.
This past Sunday (yesterday at the time of this writing) was Easter Sunday, and that's always a big day at our church (as it is for many, I'm sure). We celebrated the resurrection in a few special ways: a musical that we presented Saturday and Sunday evening, and we hosted two identical Sunday morning worship services, giving our folks some options with flexibility for their Easter Sunday plans. We also saw it as a way to "make room" for the potential of even more worshipers/seekers than usual, as Easter is a time when more folks come to church than the normal Sunday morning crowd.
While the Easter musical was more of a dramatic production, with choir, orchestra, drama, stage lights, with a culmination of the gospel message, our Easter Sunday morning services were more congregationally focused, with an emphasis on congregational involvement and a strong gospel message.
I'd like to offer a few thoughts on preparing for big events in your church, especially from a musical planning perspective.
First, take time to dream about what your final product (production) will be. In order to strategically carry out a vision for a big event like Easter, you need to have a vision in the first place. (Profound?) Once you know what you want, you'll be able to begin planning and implementing. I'll be honest, sometimes that vision changes over time, especially as personnel and ability changes and as new ideas come to mind. Be flexible enough to consider changes as you go along.
Once you have your goal, then you can begin implementing your game plan. Here's a rundown of what I do. It may not seem like the most orderly process, but it has worked over the years.
Prayerfully select a program that fits your needs, abilities, and desires. This is done several months in advance. Seek guidance from other staff members and those you trust. Consider variables, such as adapting a work, adding to it, drama or simple narration, etc.
Once a choice has been made, order your products. Make sure to order extras for your tech teams. Consider purchasing rehearsal CDs, printed materials, etc. All of this should be done with plenty of time for preparation of your people.
Come up with a promotional plan. Handouts? Tracts? Tickets? Invite cards? Mailers? Billboards? Radio ads? Facebook advertising? And the list goes on.
Recruit your key volunteers. These are your go-to people who you know are dependable and capable. In church ministry, these people are the brains behind your operation. Who will lead the drama? Who will accompany the choir? Who will handle sets, costumes, makeup, lighting, sound, etc.? Do outside professionals need to be consulted? Who will your soloists and actors be? Auditions? Will you hire a few musicians to "round out" your orchestra? Will teens be invited to participate? How will you involve all age groups in your ministry? (Since this big church event is for the entire church, it seems fit that members of the entire church should be involved.) These are all questions you should answer.
Develop a rehearsal plan. When will you begin rehearsing for the big event during regular rehearsal times (choir, orchestra, ensembles, soloists)? When will all of your extra (we have sometimes called them "bonus") rehearsals be scheduled? Tech rehearsals? Drama rehearsals? Dress rehearsal? It is helpful to have this ahead of time as well so your musicians and actors can know what they are getting into, and what their expectations are.
Work your plan. Make it happen. Stay faithful to your plan. Be flexible, though. I have had to add an extra rehearsal because I simply did not schedule enough rehearsals and the particular program was more difficult. I have also had to eliminate rehearsals, because the choir was ready ahead of time. This last Easter, I was going to cancel our last rehearsal, but at the last minute I decided to keep it. I'm glad I did because it was our best attended rehearsal (besides the dress rehearsal), and we were able to work out some "kinks" that would have otherwise wasted time at our dress rehearsal. Sometimes you just have to play these things by ear.
Elicit suggestions and ideas from outside sources. I confess, I often skip this step. Not because I want to, but it's often not on my radar. But bringing someone in for the final rehearsal to give ideas and feedback is a good idea. I've even received helpful advise after a first performance and been able to make helpful changes going into the final performance. But it's good to get ideas and suggestions from someone who hasn't been in the trenches with you and who can give the kind of first response that is helpful and constructive.
Don't allow the PROCESS to overshadow the PEOPLE. One final thought: You are called to serve people (and serve WITH people), not a big church program. No, the big church program should be the way in which you serve people. It's all about the journey, right? A choir member's daughter is taken to the hospital for weeks on end with the final results coming back with little to no answers as to what her critical problems are. Another choir member's daughter who is battling cancer is rushed to the hospital with the flu the day of the opening program. Another choir member's father passed away following the first program. This is just a small glimpse into what various PEOPLE in our ministry went through this last Easter. Life has its challenges and hardships. We must balance all the demands of ministry, and strive to keep people first. We are not always perfect at it (no, we will fail often), but our desire is to serve and be the hands and feet of Christ.
James Koerts serves as the worship pastor of Mikado Baptist Church in Macon, Georgia. In addition to his full time responsibilities at the church, James is also a published composer and arranger.