Self publishing digital sheet music… Why not?
This week I took a step of courage. I self published a collection of piano arrangements. There is no physical product, just a download that is delivered after it is purchased. (Click here to learn more about it.)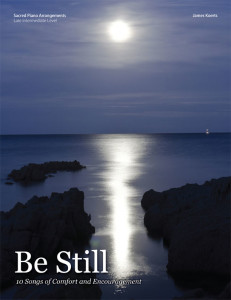 I call it a step of courage because you never know how your music is going to be accepted, if at all. And there doesn't seem to be a lot of other people out there doing this (at least on their own websites), so that makes it even more nerve-racking.
I've had some friends give me great advice, and others who have listened and been very encouraging. Some have asked, Why do this? Don't you have good relationships with your publishers? What would make you go in this new direction?
It's true, I do have great relationships with some excellent publishers. I fully intend to maintain those relationships. (You can still count on some great new Koerts arrangements in the near future. I'm excited about them, but I won't go into detail now.)
I guess it just came down to asking the question, "Why not?"
Here is more of what went into my thinking:
Okay, I'm not gonna lie. The idea of receiving nearly 100% of the profit (as opposed to the industry standard 10%) interests me. That doesn't feel like a very ministry minded thing to say, but one of my most important objectives in life is to provide for my family.

More and more people are using digital music readers. A couple of us at our church use an iPad to read our sheet music. I happen to know of a lot of people who scan or photograph their sheet music so they can use digital devices to read their music. Let's face it, the future is here.
I understand that I don't have the marketing arms that the established publishers boast, but I believe with hard work and patience, I can get there.
E-books and e-readers have revolutionized the book industry, but I have to wonder when these changes will start to take place in the music industry. (Maybe it's just me, but I can't seem to find any composers who are self-publishing piano music, at least digitally.) I have to admit, being on the front end of something that could be big seems like a neat idea.
I do follow some musicians (vocalists) who publish their own books, and whenever they come out with something new, I instantly desire to purchase it because I believe it can be helpful in my ministry. If I could do the same for others, I would be humbled and thrilled.
So there you have a little inside baseball about this decision. And so far, it's been good. I haven't sold millions yet, but I've been pleased with how well it's been received. And… I have many more ideas for future projects.
What do you think? Am I just crazy? Or is there something to this? Leave a comment below.
James Koerts serves as the worship pastor of Mikado Baptist Church in Macon, Georgia. In addition to his full time responsibilities at the church, James is also a published composer and arranger.