1777—A Colonial Christmas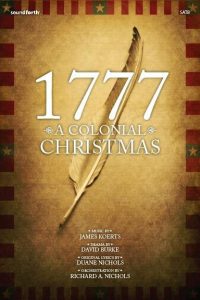 Introducing 1777—A Colonial Christmas. This complete Christmas program, published by SoundForth, will have a significant impact on your congregation. My team at Victory Baptist Church in Jacksonville had a great time planning and developing this program. It comes in a Readers Theatre format, and performance notes and ideas allow it to be easily adapted as a fully staged program. This is a powerful program! I'm pleased that it is now available for your ministry.
Publisher Description:

We often forget that our freedoms were purchased by the sacrifice of others. This story reveals the hardships and sacrifices endured by a typical American family during the extremely cold Christmas at Valley Forge when George Washington led the colonial army.

The original story by David Burke is adapted for Readers Theatre style performance and can be performed without the expense of sets and costumes. The words simply and emotionally remind a modern audience that we have much to be thankful for as we enjoy our Christmas this year in a free country.

Original music by James Koerts includes: "Prince of Peace," "Fear Not," and "Patriot's Prayer." Also includes traditional arrangements of "Good Christian Men, Rejoice!" and "In the Bleak Mid-Winter."

This timely cantata will remind all who hear that Christ came to earth that first Christmas to bring peace to the world–a perfect peace that can only be found through faith in Him.
You can purchase this cantata at the following location:
James Koerts serves as the worship pastor of Mikado Baptist Church in Macon, Georgia. In addition to his full time responsibilities at the church, James is also a published composer and arranger.