Tagged In: choir ministry
standard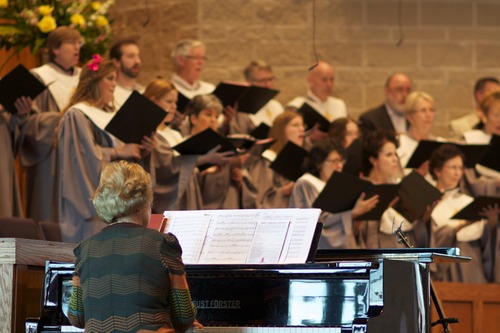 Recently, a friend of mine sent me an article on reasons why it's a good idea for a church to have a choir. It was a good list. You've seen these types of articles, haven't you? I gave it a read, wondering if I would discover something new, or at the very least find something that confirmed my already opinionated thoughts on the matter. (After all, the choir is a big part of my ministry.)
What stood out, however, was what was missing. I wrote my friend back: "It's a good article, but the author missed the most important reason to have a choir: it's God's idea."
It's true, there are a lot of good musical, social, and spiritual reasons to have a church choir. As another friend recently reminded me, choirs are the quintessential "small group" of the church, offering tremendous opportunities for worship, edification, and spiritual growth. And this is all true and important.
But to me, the most compelling reason to have a choir is simply because it was God's idea. From the early beginnings of organized Temple worship (2nd Chronicles 5:13, see the whole chapter), to the mass choir of eternal worshipers (Revelation 7:9-12), God has implemented, accepted, and enjoyed the ministry of the choir of believers.
Can a modern church truly be a New Testament church without the ministry of the church choir? Sure. Church plants and small congregations may find it to be low on the list of their immediate priorities. But eventually, as a healthy church grows numerically and spiritually, it would be wise to evaluate the validity of the church choir (even if it could really be called an ensemble).
And it would be a good idea… because it was God's idea.
---