Tagged In: sacred piano
standard
For a limited time (offer ends August 1st), you can get a free sacred piano collection when you purchase two collections. Simply choose three sacred piano collections and put them in your cart. The discount will be applied automatically (no discount code is needed). Applies to digital downloads only; bundles do not apply.
For a complete listing of sacred piano books, go here: http://eepurl.com/btGUVj
Visit the store today to enjoy your savings!
---
standard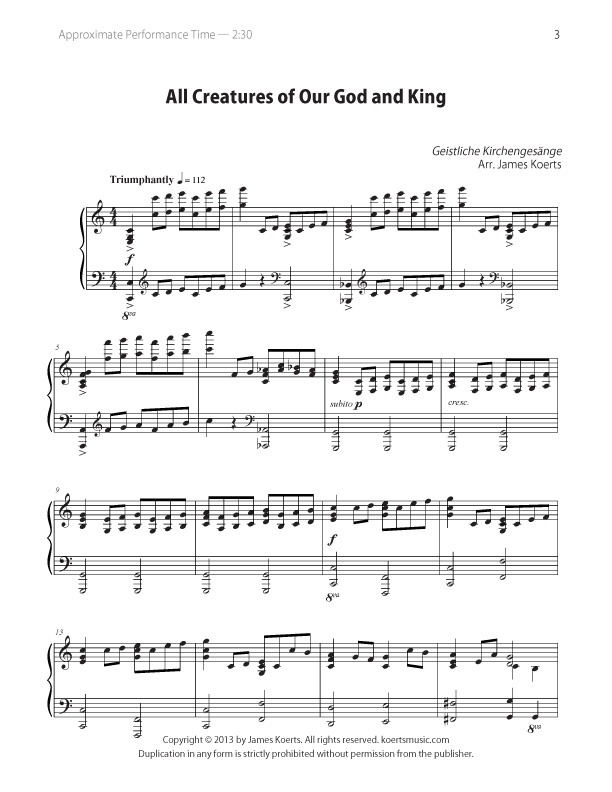 Here's an advanced level sacred piano solo that is bursting with energy! (Click on the picture to see a preview page.)
It is also available in the collection, Joyful Adoration: 10 Songs of Praise & Worship
---
standard
It's time to offer you another free sacred piano arrangement. "When I Survey the Wondrous Cross" is a worshipful setting of this beloved hymn. Set at a late intermediate level, this song is perfect for corporate or private worship.
You can get this free arrangement by signing up at my Facebook page. When you sign up (after you "like" the page, of course!), you'll be added to my email list. I have no intention of inundating you with irrelevant messages. I typically just send out 1 or 2 emails a month. And of course, you can unsubscribe at any time.
Visit my Facebook page to get your free arrangement.
There's more: you can get a second free piano arrangement!
If you refer 3 other friends, you can receive another free piano arrangement. It's an arrangement of Blessed Be the Name which employs a very rhythmic and upbeat setting. The level of this arrangement is early advanced. It's one of my favorites. In fact, I just played it last Sunday at my church!
Click here to get your free sacred piano arrangement.
---