The James Koerts Piano Club
Imagine getting a new piano arrangement each month
Now you can! If you enjoy James' piano arrangements and the idea of receiving a new hymn chart each month sounds good to you, then the piano club might just be for you.
For $25 a year you can receive a new piano arrangement delivered to your inbox each month.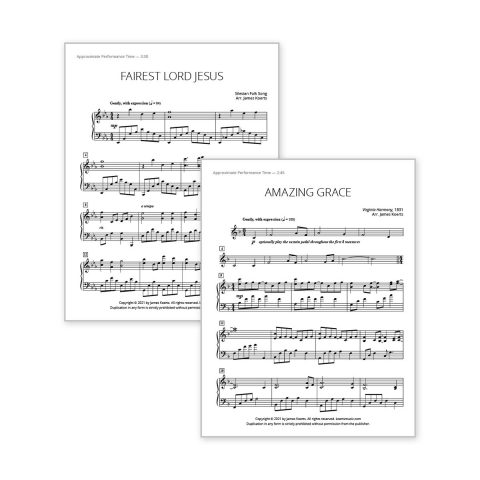 Members receive:
A brand new (never-before published) piano arrangement by James Koerts each month
A corresponding mp3 audio file for your listening enjoyment
A discount code good for 20% off all sheet music purchases at the store
Exclusive access to our private Facebook community where you can interact with James Koerts and other club members
Plus, when you join, you gain access to the last 12 months of piano arrangements. That's 12 free arrangements!
Piano Club emails are typically sent within the first few weeks of each month. The annual fee is $25. Subscriptions are automatically renewed each year. You can cancel your membership at any time.
How will I receive my piano arrangements?
Each month you'll receive an email notifying you that the new piano club arrangement is available. In it, you'll receive a direct link to the piano club area on the website. In the members-only area, you can download your piano arrangement.
When will I receive my piano arrangements?
When you join, you instantly receive access to previous piano arrangements! (Most people feel this is a huge benefit of joining!). Each new piano arrangement is delivered within the first two weeks of each month, usually on the first Monday.
What is your cancellation policy?
Cancel at any time! Cancellation simply means you'll still have access to the members-only area until your expiration date, but you will not be automatically billed when your membership expires. (We do offer refunds up to 60 days after being billed. Contact me directly if you would like to request a refund.)
How do I cancel my membership?
Cancel at any time by logging into your PayPal account. There you should be able to cancel your membership. You'll still have access to the piano club until your membership expiration date, but your membership will not be renewed, and you will not be billed again.
I'm not getting the monthly email. What should I do?
First, check your spam and trash folders for the email. (You might also consider whitelisting "info@koertsmusic.com" in your email address book to ensure you receive future emails.) If you still can't find your email, reach out to me directly, and I'll confirm your email made it into our piano club email list.
Sadly, some customers simply never receive emails from me, even after checking everywhere, and even though they are included on the email list. I am told this is due to certain email servers rejecting automated emails from "untrusted" web domains. This is frustrating because the Koerts Music domain has been a credible and secure domain for years. However, my hands are tied, and there is very little I can do about it. It's frankly bad for business. This is why a few years ago I shifted from exclusively serving the piano arrangement via email to serving it in our members-only area. So, if you do not receive the monthly email, rest assured that you can access the members-only area each month and receive the new piano club arrangement.