Tagged In: worship
standard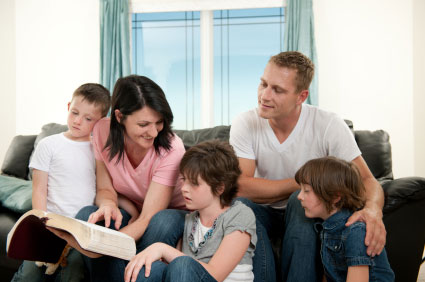 I was recently asked to speak on family worship at our church. I was overwhelmed with the opportunity, and eager to share what God had taught me as I studied this important area of worship.
We first discussed what real worship is (and what it isn't). Then we spent a good deal of time discussing how we are to worship (in spirit and in truth, John 4:24). I concluded with the thought that if this isn't happening on a personal level, then chances are it's not happening in the family. And if this is the case, then by extension, it's likely not happening on the corporate level.
If we are going to see dynamic, heart-felt, fully involved worship in our church services, I believe worship must be found in our families (and ultimately, in our personal lives).
Here are a few tips and ideas for meaningful family worship. By no means do I think this is an exhaustive list. I just wanted to give a few ideas to help encourage our families to action. I hope they'll help your family as you seek to put God first, and honor him in the area of worship.
Develop an attentive eye for God through everyday experiences.
Otherwise known as God-moments. He's at work all around us. Nature. Circumstances. Challenges. You name it, the hand of God can be seen in it. You just have to look.
If your young children have questions about God, do your best to acknowledge them and answer them. Intentionally draw life applications through difficult family situations. Ask your children what various events and activities teach us about God.
Cultivate a thirst for God through regular family worship.
In our home, we call this devotions. We usually get ready for bed, then all meet in the living room. (Often we'll have the children bring out their bean bags; we like to make it a real fun, enjoyable and natural time.) Then we read a passage and talk about it together.
For small children, I highly recommend a book that our family has recently discovered: Long Story Short. (You can find it here.) This book has breathed new life into our family devotional time. Older children and teens might enjoy this DVD series I've recently come across, which I also highly recommend.
There are many things you can do together in this setting. We have been known to read the Bible, share testimonies, talk about hard things mommy and daddy have gone through and share corresponding biblical truth, read a missionary story and sing together favorite songs that our children have learned in church. It's not rocket science.
Our goal is to be consistent with it. We live in an extremely busy life. (Doesn't everybody?) So we often will only meet a few times a week. Our desire is that our children will gain a heart for God, and that their desire to learn more about him will compel them to want to partake in family worship.
Encourage courageous faith through eager expectancy.
What do I mean by this? Well, do you expect God to work on your behalf? Or do you live your life without any real desire to see God move and answer prayer? We can evidence to our children that we are expecting God to work on our behalf and for our good by developing a consistent prayer life that expects the Lord to answer. He may not always answer the way we expect (or want), but he is at work. This is the vision I want to set for my children: that we can pray in accordance with his will, and he will answer. I call it, "praying down fire from heaven."
I'm not merely referring to having strong faith, or making it so by saying it so. I'm talking about exhibiting complete trust in a great big God who can do anything. We do this in the little things, like praying for a good parking spot at the shopping center, or asking God to provide a particular toy that the kids would like. There have been many times when God miraculously worked on our behalf—often in small ways—and we were able to share with the children how God had answered our prayers.
If we want our children to walk by faith, we need to be willing to do so ourselves. Let's set the tone.
Nurture an excitement for corporate worship through faithful example.
Do your children say, "Oh! Do we  have to go to church again?" Or do they say, "Yay! We get to go to church again!" I'm not sure I know of any children who say the latter, but I think it should be somewhere in between.
I am convicted about this whenever we prepare for a family vacation. Our family loves vacation! When we are getting ready, we talk about it a lot, and it's easy to generate excitement among our children. We need to be doing the same thing with church.
If your example is a slouched posture in worship, if you are uninterested or preoccupied during worship, then you are setting a poor example for your children. We need to make worship a priority, partly because God is seeking worshipers (John 4:23), but also because as believers, it is an activity that we will be participating in all throughout eternity. When it is a priority in our lives, it will be a priority in our family's life.
I'd love to hear your take on this. What are some ways you have been able to make your family worship meaningful?
---